If you are a bicycle lover, you are about to take your first holiday by train and in the company of your two-wheeled companion, one of the most important things you will have to do is to find out what ways are allowed to travel by train with a bicycle on board.
It may seem absurd to you, but getting on a long-distance train with a bicycle is not so simple; there are a number of rules and protocols to follow. Otherwise, your expected adventure holiday on wheels could be frustrated by an absurd fine that you could have avoided.
Are you looking for some great accessories for your bike if so check out our guide here

Below, we will explain the best tips for travelling with your bike on train.
Ready?
Well let's start!
Tips on how to take a bike on a train
Look for the cycle symbol on the train doors
All trains have blue symbols attached to them indicating that passengers with bicycles can enter through that door and leave them there for the entire journey.
Ideally, you should arrive at the station well in advance, so that you can take a good look at the trains and have more time to see which doors have the symbol and which are available; if all the access doors are full, a guard will direct you to another place where there is more space and you can place your bike.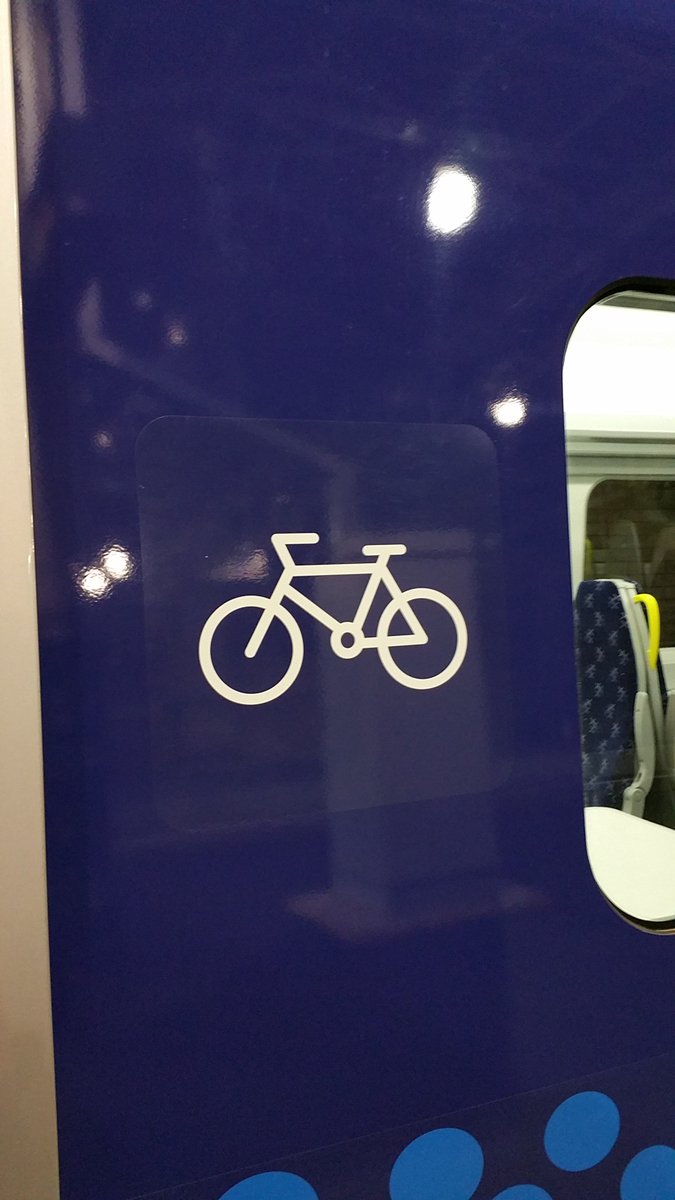 Reserve a place for your bike
Currently, there are several long-distance train companies that allow passengers to reserve a seat for their bicycle online. This way you will save any unforeseen event during the trip, since normally for long distance trips, trains always require a previous reservation to travel with a bicycle; without that justification they might not let you travel.
Get used to riding tight
Trains usually have their seating space distributed so that passengers can sit down, regardless of whether they have a bicycle or not. Therefore, when you decide to travel by train with your bicycle, the first thing you will find is that you will always be travelling in a tight space; at first it may be a bit uncomfortable, but it is a matter of practice.
Use the bicycle safety belts
Nowadays most long-distance trains have special belts for bicycles, so that with the natural sudden movements of a train, your bicycle does not fall over or suffer any damage. Therefore, when you get on the train and get into your seat to travel, the second thing you should do is to put the safety belt on your bicycle.
Talk to other cyclists during the trip
If you are not going to do the entire train ride and you are getting off at an earlier stop, it is best to talk to the other cyclists who are riding with you on the train.
This way you will avoid your bike ending up at the end of the storage area and having to move all the bikes in front of you when the train arrives at your stop; you will hardly have time and it will be very uncomfortable. Therefore, try to talk to the other cyclists and make sure that your bike always stays in front of you when your stop arrives.
Prepare your bike before you get to the stop
Start preparing your bike a few minutes before you arrive at your destination, don't leave it until the last moment because you will barely have time to react. When a train stops and lets its passengers off, the approximate time it leaves for this is only two minutes, so if you have not prepared all your luggage or your bike before that time, you will find yourself in trouble and will have to act very quickly.
You'll have to be fit
If there is one thing that anyone who likes to cycle around the world knows, it is that in order to travel with your bike on the train you must be very fit. Most train stations and their structures are very old, some even from the time when the world moved with horses.
This means that on many occasions we have to take our bicycle on the wing in order to get it on, off or move it from one side of the station to the other, which requires a lot of strength and skill.
Watch out for short platforms
Not all stations have long-distance platforms, which means that the train will not open all the doors for passengers to get off.
If it is the case that your bicycle compartment door will not open during your stop, the best thing you can do is to transfer from one car to another as soon as you get a chance to avoid staying inside the train when you arrive at your destination